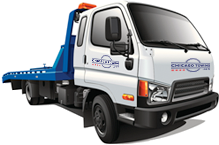 ChicagoTowing.com
Chicago Towing provides full service automotive towing and roadside assistance in Chicago Our team is licensed, highly experienced, and prepared to come directly to your location at a moment's notice with trucks fully equipped with the very latest technology to help provide you and your vehicle instant solutions.
Licensed Towing Company in Chicago
ChicagoTowing.com are licensed and fully insured, so if any damage occurs to your vehicle during loading, unloading, and transport, we will immediately file a claim with our insurance provider. We take our job seriously and to ensure you that we are a genuine towing company, we offer proof of our licensure and insurance policy to any and all consumers.
Towing Services in Chicago
Our team is dedicated to ensuring the 100% satisfaction of our customers. We understand how stressful and disruptive roadside vehicular issues can be - which is why we always arrive directly at our customer's location in a quick matter of minutes and provide all services in an efficient and fully professional manner. We make sure that your vehicle receives the exact type of care that it deserves, giving you instant solutions, and giving you the irreplaceable peace of mind in knowing that you're receiving the absolute highest grade of towing services available anywhere in the Windy City and State of Illinois.
We offer the following
Car towing service
Ditch extraction service
Delivering gas when your tank is empty.
Jump start a dead battery
Car Lockout service
Replace a flat tire with your spare
Our Mission at ChicagoTowing.com
We aim to provide fast, efficient and cost effective towing for your vehicle in Chicago.