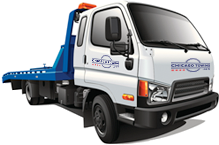 Car Lock-out service in Chicago
A car lock out emergency happens when a person accidentally forgot to take the car key from the ignition of their vehicles before closing its doors and leaving it in a parking lot. This situation causes a very big trouble on the part of the car owners because the car can never be used unless there is an expert locksmith who can open its doors using a different technology.
No need to worry! ChicagoTowing.com can be on the job in a matter of short minutes, instantly rushing to your location and allowing renewed access to your vehicle through use of their specialty, professional car lockout technology. Never attempt breaking into your own car - instant lockout help is just a call, and a few minutes, away.
Instant Car Lockout Service Provider – 24 Hour Locksmith
We understand the urgency of being locked out of your vehicle - which is why our technicians are prepared to arrive at your location instantly, and to perform lockout service in a professional, efficient, and courteous manner. If you find yourself locked out, just call the experts at Chicago Towing. From the very moment you call us, our team will be on our way directly to your location. And once we arrive, it's only a simple matter of minutes until we restore your access to your vehicle. Call us today; we'll get you back on the road in no time at all!