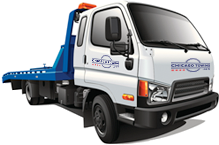 Towing in Chicago, IL
Providing immediate response towing services in Chicago, IL, ChicagoTowing.com is dedicated to delivering the best possible towing experience for its customers. Looking for quality downtown Chicago towing service? Our team of skilled and certified towing operators offers fast, safe and affordable towing services throughout greater Chicago area. Call our 24hr dispatch center now at (773) 756-1460 to get a truck en route to your location directly.
Dedicated To Towing Excellence in Chicago
The ChicagoTowing.com team is committed to delivering excellence on every call. Their state-of-the-art towing fleet is manned by trained and certified towing operators. These uniformed towing professionals are subject to criminal background checks, random drug testing and benefit from ongoing skills training. Each truck is equipped to far exceed Chicago PD specifications to complete your towing job efficiently and damage-free. The fleet also benefits from a comprehensive maintenance program that far exceeds Federal Motor Carrier specifications. Our Chicago Towing Services include: Car Towing; Light Duty Towing; Flatbed Towing in Chicago; Motorcycle Towing; Show Car Hauling; Emergency Towing; Transport Towing and Police Towing.
We provide Towing, Transportation and Roadside Assistance services all over Chicago area. We started as a tiny business in suburbs of Chicago. Months went by and over the years, we bought another tow truck and other assistance vehicles, Call ChicagoTowing.com at (773) 756-1460 for a free quotes and estimates
ChicagoTowing.com delivers top quality towing and recovery services in Chicago and area. Our professional towing services include:
24hr Car Towing
Light Truck Towing
Wheel Lift Towing
Show Car Hauling or Exotic Car Towing
Accident Towing
Accident Clean up
SUV & Commercial Van Towing