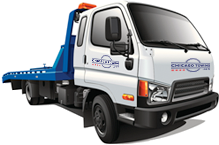 Expert, on the spot commercial and business towing services
All manners of auto dealerships, local businesses, and corporations have depended on us at ChicagoTowing.com to help protect their fleet of vehicles while on the road. If your company's vehicle finds itself rendered inoperable due to a breakdown or accident, our mobile towing units stand ready to provide point to point towing services within minutes, with even just a moment's notice. We don't care what kind of vehicle you have - we can tow them all, and our fleet is equipped with the latest and greatest towing equipment on the market today to help provide the safest, most efficient, and most professional commercial towing services available in the entirety of the Windy City.
Professional Chicago business towing services
If you're running a professional business that depends on the full operation and effectiveness of your vehicles, whatever kind of vehicle they may be, Chicago Towing is your one stop shop for all your towing and roadside assistance needs. Any time that a commercial truck, car, or even bus breaks down on the side of the road, runs out of gas, or pops a flat tire, one of our team members will rush directly to your location - efficiently and effectively providing you with answers, solutions, and whatever service you need - and always at a fair, flat, affordable, and competitive rate.
Benefits of using ChicagoTowing.com for Commercial Towing:
ChicagoTowing.com is fully licensed, permitted, bonded and insured. Our commercial customers depend on ChicagoTowing.com to respond quickly, to respond safely, and to provide professional service and reasonable pricing on a moment's notice. We deliver your vehicle to their location to facilitate repairs or transfer. Our safety programs ensure both your vehicle and our operators arrive safely to their destination, and without incident.