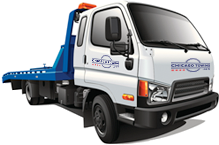 Chicago Luxury Exotic Car Towing Service
Full spectrum towing service for luxury and rare vehicles
Whether you're working with an antique Corvette or the newest Maserati, ChicagoTowing.com can help be your saving grace for any forms of roadside issues that you might experience. We understand that your vehicle is incredibly precious and important to you, which is why we ensure that we perform all towing services with the utmost precision, care, and attention to detail. Our mobile towing units are fit with the latest and greatest in towing technology, to ensure that your previous cars get nothing but the absolute best recovery service, with the utmost courtesy and professionalism.
Professional, instant exotic car towing service
For those that experience breakdowns inside luxury, antique, or exotic cars, being left stranded on the roadside can be quite stressful. Lucky for you, the expert technicians at Chicago Towing make it our priority to arrive at your location in a quick matter of minutes, getting you off the road with your vehicle safe and sound, almost instantly. We are available throughout Chicago, at any time of day or night, any time of the year - so we can always be counted on to help safely transport and protect your luxury or exotic vehicle.
Benefits of using our professional Exotic towing services
We operate 24/7 in Chicago; you can call us anytime, and count that we will answer!
Your car and property will not be damaged by a fault technician / repairman
Fully licensed and insured business - you are safe with us
Toll-Free customer and technical support available all the time
Competitive Pricing in Chicago, We will give you an honest offer before the job is done
Fast Response time, Fast Service all times.