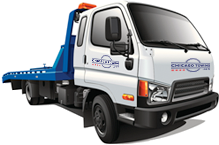 On the spot, instant key replacement in Chicago
If your car key has been lost, damaged, or is rendered inoperable, it can leave you stranded. This can be incredibly frustrating, especially the fact that you're already inside or right next to your vehicle, without the ability to operate it. Fortunately for you, Chicago Towing has got you covered. Our expert ignition key replacement service is available for our customers wherever their location may be, at whatever time of day or night they need service. Instantly receive brand new versions of your ignition key, perfectly matched and coded to your vehicle's transponder system - and find yourself instantly out of the bind you were in before you contacted our expert team.
24/7 Chicago Key replacement service
We understand how frustrating it may be to need a brand new ignition key for your vehicle, which is why we make it our priority to provide the most efficient, courteous and speedy service available anywhere in the Windy City. Whatever the time of day is, our technicians will rush directly to your location upon your first call to provide you the most professional ignition key replacement services available anywhere. Our team is equipped with the latest technology to provide seamless fresh versions of any car keys out there - simply prove your ownership of the vehicle, and watch before your eyes as our tech wizards fashion you a brand new key from scratch that works perfectly like new - and allows you to get on the road again as soon as possible.
List of our lost car key services:
Lost car keys no spare made on site
Ignition keys and cylinders repair or replace
Fast mobile locksmith service in Chicago
All lost car keys made on site
lost chip and transponder car keys made on site