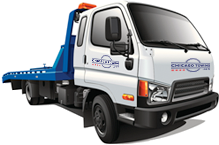 Instant, emergency towing services, anywhere, anytime.
If your vehicle has found itself stranded, stuck, or otherwise nonoperational, the towing experts at Chicago Towing are on call to help you. Our technicians come directly to your location in a matter of minutes with the very latest and greatest in towing equipment to help transport your vehicle safely, and efficiently, to any location of your choice. Towing can be a complicated and difficult process - which is why our team works nonstop to help ensure the safe handling and delivery of all vehicles. We pride ourselves in providing affordable, professional and reliable towing services in Chicago and surrounding areas. Give us a call so we can get a chance to meet and do business with our responsible towing company.
Local Expert Towing Chicago
Our years of field experience has helped prepare us to be the absolute best towing experts in the entire game, so if you ever find yourself in need of any type of vehicle towing, you can rest easy in knowing that we can handle all manners of towing projects, no matter the severity or complexity. We're a local business, and know how to navigate the Chicago streets like the back of our hand - ensuring fast arrival times, allowing you to get off the road as soon as possible. Our customers aren't just our clients - they're often our neighbors, and we always make sure to provide all service with a warm human touch. We're simply the best towing experts in the entire Windy City.
Roadside Services in Chicago
ChicagoTowing.com have the power to tow everything from motorcycles to cars, light duty trucks and heavy duty trucks, our quick response roadside and towing services are fast.
Private Property Towing
A ChicagoTowing.com we will provide services around the clock 24/7, so know that whenever you need our services there is somebody whom you can depend upon.