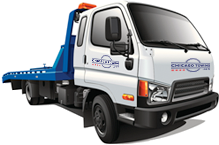 Expert Long Distance Towing Service
Taking long trips can be stressful - especially if your vehicle breaks down. If this happens, however, there's no need to get stressed or fret - Chicago Towing has your back. Our team is vastly experienced at handling all manner of roadside breakdowns - and can easily handle long distance hauling of anything from sedans to trucks on our expert equipment. Our technicians make it their priority to provide all towing services with the utmost efficiency, courtesy, and professionalism - so you can be sure that when you're working with Chicago Towing, you're receiving the absolute highest quality long distance towing service in the entire game.
24/7 Emergency Long Distance Towing Service
Breakdowns happen at any time of day or night; it's simply a fact of life. Nobody plans for or schedules a flat tire or a faulty transmission. Fortunately, you don't have to be prepared - because the team at Chicago Towing are standing at the ready to vigilantly provide a wide range of towing services for all clients - whether local or long distance. Our technicians will arrive at your location in a short matter of minutes, efficiently and safely loading up and transporting your vehicle to it's intended service center. We always work to minimize the amount of time that you're left standing on the road, and operate our business according to dedicated principles of courtesy, professionalism, and care. Next time you need long distance towing service, don't think twice before calling Chicago Towing!