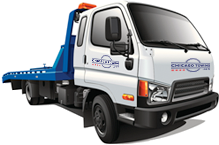 Towing for every variety of bike
There's nothing like the freedom of riding on a motorcycle. In contrast, the feeling of having your motorcycle broken down can feel quite frustrating. If your bike has experienced a flat tire, transmission problem, or any other issue that calls for towing, don't freak out - just take a deep breath and contact the towing experts at Chicago Towing. Our technicians have plenty of field experience towing motorcycles of every size, brand, make, and model. We understand how valuable your motorcycle is - and always perform our towing services with the utmost care, precision, and attention to detail.
Motorcycle Towing in Chicago
Once you call our office, we will have one of our mobile towing units deployed directly to your location in a simple matter of minutes - so there's less waiting, and less worrying - since you can rest easy in knowing that your cruiser or hog is in dedicated, trustworthy hands. From the very moment you call us, our expert technicians will be on the job to rush to you - to minimize the amount of time you spend sitting outside, and to bring you much closer to getting your motorcycle or motorbike effectively repaired. We can either tow you to your local mechanic if you were in an accident or if you are an avid motorcycle collector we can help you transport your motorcycles to the local motorcycle expos.
ChicagoTowing.com is fully licensed and insured and provides prompt, professional and courteous service. If you find yourself stranded on the side of the road in need of motorcycle towing, don't hesitate to call us first! We are open 24 hours a day, 7 days a week!
Here is what is covered under our Motorcycle Towing Service: