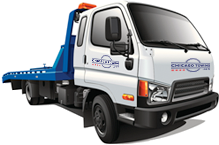 24/7 professional recovery services
If your taste for adventure has led to a bit of vehicular misadventure, and your off road vehicle or ATV has found itself pitched inside a ditch, there's no need to fret! The professional team at Chicago Towing specializes in instant, on the spot off road recovery services. Regardless of the make or model of your vehicle, the time of day or night, or even the nature of your off-road mishap, our team can be counted on to provide you efficient and professional vehicle recovery services - with optimal levels of efficiency and professionalism.
Towing Service for all Off Road Vehicles
Whether you have an ATV, a motorbike, or even a mini tank, Chicago Towing can provide you with the most effective instant vehicle recovery service available anywhere in the Windy City. Simply give us a call and sit back and relax - help is on the way. We come directly to your location in a matter of minutes, so there's nothing to worry about. Simply relax in the awareness that your vehicle will be recovered on demand by our expert team with the necessary skills and experience to handle all manners of off road vehicles with the utmost care and precision.