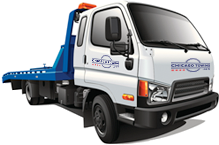 Instant, on the spot tire changing service in Chicago
If you get a flat tire while driving, you should immediately pull over to an area isolated from traffic. Driving on a flat tire can cause damage to the wheel or cause you to lose control of your car entirely. Broken tires can be incredibly dangerous - even when they seem 75% full - and pose a major risk to drivers, passengers, or any other motorist on the road. Chicago Towing provides the entire Windy City with the fastest and most professional tire changing service available.
Professional Tire replacement Chicago
Our team remains on call, every moment, to come directly to your location to perform tire changes, or any vehicle related service that you might need. We carry a full range of tires available for any type of vehicle imaginable; so if you ever find yourself with a torn, leaking, punctured, or otherwise broken tire, don't think twice before contacting the experts at Chicago Towing for instant assistance.
We proudly service the Flat Tire Repair needs of customers in surrounding Chicago Area.