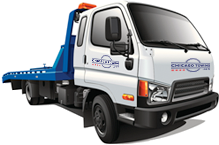 Find a tow truck near me
If your car, truck, motorcycle - or really, any vehicle - experiences any trouble while you're in Chicago, you can rely on the experts at Chicago Towing to get you out of any sort of jam you might be in. Our skilled technicians have the years of experience to safely and expediently tow any form of vehicle, and have the latest state-of-the-art equipment for automotive rescue and retrieval. Our team can effortlessly perform non-towing based operations as well: from flat tire and ignition repair to vehicle jumpstarting, we know every trick in the book to get you behind the wheel driving as soon as possible. Our mobile team is on call 24/7, 365 days a year to provide you instant, on-the-spot service - so remember, there's no need to stress over roadside impediments - simply contact Chicago Towing for instant solutions!
Local Chicago tow truck near me
There's tons of reasons that anyone might require roadside vehicular assistance - and whatever your reason is, you can trust that when you contact the team at Chicago Towing, you will be receiving the highest standard and quality of roadside assistance in the entire game. Your safety is always our primary concern. Our mobile towing units are fit with the latest and greatest towing technology to ensure that our team can arrive directly at your location to instantly provide you roadside assistance, regardless of what issue your vehicle is experiencing. So whether your tires are broken, or your transmitter is shot, simply contact Chicago Towing for instant, on the spot solutions that are always priced at a fair, competitive, flat rate. Our skilled team can make hasty arrivals at your location, wherever in the Windy City, or Chicago metropolitan area it may be.
Tow Companies Near me
Here at Chicago Towing we make our customer's safety and happiness our ultimate priority. Every one of our roadside assistance and recovery services are handled by tow truck drivers and technicians with the utmost level of field experience and training. Consider Chicago Towing your one stop source for every type of towing need imaginable; our mobile trucks are available, all day and night, every day of the year, and we can be relied on whenever and wherever your vehicle might fail. We pride ourselves on our speedy response times and high levels of courtesy - give us a call for all of your towing needs.
Chicago Towing provides the following roadside assistance services:
Car Towing
Truck Towing
Motorcycle Towing
Ditch extraction service
Mobile gas delivery
Vehicle lockout service
Flat tire replacement service