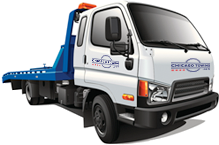 Can I tow my all-wheel drive vehicle?
Absolutely. We can tow all-wheel drive with regular or flatbed tow trucks.
How do you maintain each vehicle's separate kinds of towing procedures?
Each car brand and model has distinct towing guidelines - and many companies collect these guidelines together in an annual published volume that's considered standard reading for tow drivers.
Is towing dangerous for my car?
Absolutely not. Your car will either get lifted by its tires, or directly onto the truck itself, absorbing the shocks of any potential bumps during the ride. At ChicagoTowing.com we handle your vehicle with care.
Are your drivers specially trained?
Yes. All of our tow truck drivers receive extensive training, and are teamed up with an experienced driver until they can perform each one of our offered services with complete confidence and professionalism.
Do tow truck drivers require specific licenses?
Light duty tow truck drivers do not require special tow drivers; however they need to hold perfect driving records.
Can my lowered car still get towed?
Yes, we can safely tow lowered cars.
Can you tow motorcycles?
Yes, we have all the necessary equipment to safely tow motorcycles.
Can you unlock my car that has electric locks or side-impact airbags?
Yes, our locksmiths are skilled at unlocking cars of all makes and models, so they can be relied on for all forms of emergency unlocking service.