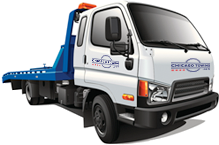 Local Flatbed towing in Chicago
If your prized car suffers a breakdown on the road and needs to be transported to a service station, flatbed towing service will help provide you the peace of mind in knowing that your vehicle will not sustain any damage, wear, or tear while it's being towed. Chicago Towing has the latest and greatest flatbed towing equipment available today to provide all of our customers with unparalleled dedicated safety in transporting their precious vehicles from the roadside to service stations. If you find yourself in need of towing service, and are concerned about the durability of your vehicle or it's safety while getting towed, contact Chicago Towing today for the premiere level of flatbed towing service.
Benefits of Flatbed Towing
Flatbed towing is usually much safer for vehicles than dolly trucks, as while dolly trucks are cheaper to use, they put the vehicle's wheels in contact with the ground. This can cause damage to the vehicle if it hits a pothole or major road obstruction, which is why our expert towers always recommend that our customers utilize flatbed towing to transport their vehicles to service stations.
The Flat Bed tow truck provides safe towing while keeping the car in perfect condition. Out Flat Beds tow truck are all over Chicago looking to help you out. Whether you just need a battery boost or your car door opened, we are here to help you.
Here is what is covered under our Flatbed Towing Service:
24/7 Emergency Towing in Chicago
Jump-start of your battery
Flat tire assistance
Lock-out assistance for car and your home or apartment
Flatbed Towing in ChicagoTowing.com
Flatbed towing is the most common type of towing service offered at ChicagoTowing.com. This is because it does not cause your vehicle any additional damage during the towing process. It is also because these types of towing trucks are mass produced at a greater rate verses the wheel lift trucks.
What is the different type's flatbed of tow trucks?
There are two different types of flatbed tow trucks that can be deployed to your location: flatbed trucks and lift flatbed trucks