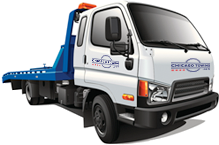 Chicago Junk Car Removal.
If you want to junk your car. Give us a call to schedule a pick up time. Have a copy of your license and title ready for our records. All files submitted will be confidential. Is your Chicago vehicle nothing more than a piece of scrap languishing in your front or back yard? Think again! Chicago Towing purchases junk cars from our customers for cash. There's simply no reason to let a used car go to waste, since they can really just sit there forever. Let your assets work for you by contacting us today; one of our car appraisal experts will be instantly dispatched to your location to provide an estimated value of your junk car - and from that moment, you can get paid for a vehicle that's just been standing there as a shell!
Sell your junk car in Chicago. Fast.
If you want a little extra pocket cash - or even some major bucks - call Chicago Towing today to sell your junk cars! Junk cars do little more than simply sit there like statues behind your home - however, their use value remains constant, if only you pick up the phone and call us. Selling us junk cars is no hassle at all - simply call us and one of our experts will arrive at your location instantly to appraise your vehicle. Decide you want to sell it, and a tow truck will simply take it away - and you will get handed cold, hard cash.
Guaranteed Cash For Your Car
ChicagoTowing.com stands by our service 100%. Once you accept our offer one of our friendly and professional junk car buyers in Chicago will pick up your vehicle within 24 to 48 hours (often sooner!). We'll contact you directly to schedule a pickup time that is convenient for you. Nights and weekends are often available. Of course, towing is always free and there are zero hidden fees.