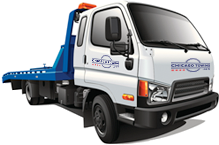 Mobile gas delivery in Chicago. Ran Out of Gas? Get a Gas Delivery Now in Chicago?
Perhaps you forgot to fill up your tank at the last minute, and only realize when it's too late, and you're stranded on the side of the road. While this may seem like a drastic situation - there's no need to fret! Simply contact the experts at Chicago Towing for expert, rushed, and courteous gas delivery and refueling services. Simply explain exactly what type of gas your vehicle needs, and we will come directly to your location with a full tank and refill your entire vehicle, allowing you to get back driving on the road as soon as possible.
24 Hours fuel delivery service
Cars can run out of gas at any time of day, and when they do, there's not much you can do about it. The line between a fairly operational car working on its last drops of fuel, and a car that's been rendered completely inoperable by its gas thirst is quite thin indeed. ChicagoTowing.com makes it our priority to ensure all of our customer base that we can deliver all manners of fuel, to all Chicago locations, at any time of day or night. There's no reason to stay stranded, or leave your car unattended while you hike to the nearest gas station - simply contact us, and we will come right to you and refuel your vehicle, so you can be on your merry way.
How much gas will the driver bring bring?
Our driver will bring up to 2 Gallons for Gas
My car runs on diesel fuel, can diesel fuel be delivered?
Upon request we will deliver diesel fuel
My owners' manual states that my car runs on premium gasoline will that be delivered?
Upon request we will deliver premium gas to your vehicle.