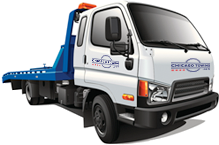 Instant jump starts on demand
ChicagoTowing.com is always on call, and we are ready and able to respond to any/ all jumpstart vehicle emergencies Sometimes vehicles need jump starts - it's just a fact of life. If you find yourself in the position of being stranded on the road (or in your driveway) in the need of a quick and effective jump start, Chicago Towing has you covered. Our team of vehicle jump start experts arrive directly at your location in a matter of minutes in their fully equipped mobile towing unit - quickly jump starting your car's battery with the electricity it needs to wake up, and get you moving again. Next time you find your car battery or transmission drained - don't let your soul get drained; simply contact Chicago Towing for instant, on the spot jump starting service.
Emergency, rush jump start service in Chicago
Whether you're in a rush to get to work, to get home after work, to get to an important appointment, or simply to get off the side of the road, Chicago Towing can be considered your one stop shop for all your vehicle jump start needs. From the very moment you call, one of our expert jump start technicians will be deployed right to your location. Our knowledge of Chicago geography makes us experts in efficiently navigating the roads to find our way to you in a simple matter of minutes - limiting the time that you're sitting there on the road, and allowing your vehicle to get jump started, and back driving much, much sooner.